Home
» How to Write a Resume

Your resume is the first and last chance to have an opportunity to interview with a company. If your resume does not get the attention of the hiring company, your options will be limited. Use plenty of time to create a proper resume.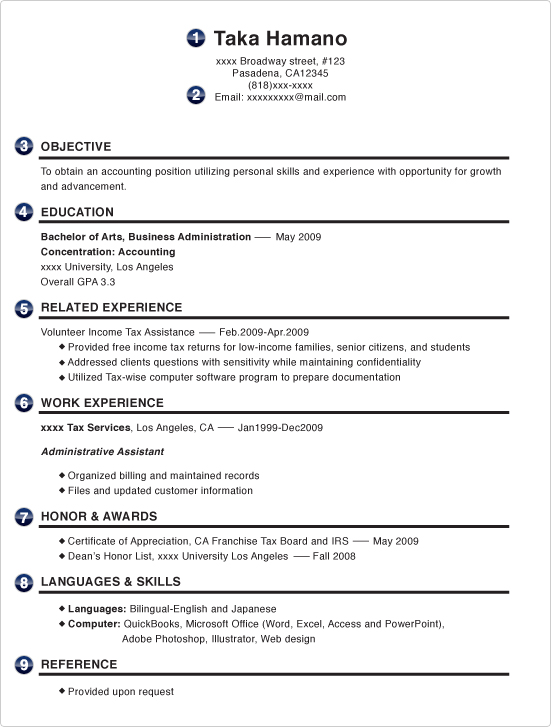 Write your name slightly larger than the body of your resume.

Create a different email address for emails regarding your job-hunt so that important emails do not get lost amongst other emails. It is best to have your name in your email address.

What is the work environment like? Do you want to polish your career and skills? Write your thoughts and attitude regarding work.

Of course, you must write school names and degrees earned, but also write about special courses taken that pertain to the job, as seen in this sample resume.

Experiences outside of occupations and schools such as volunteer activities should be written by all means, as long as they are related to the employment position.

Past work history should be written in the order of most recent. In doing so, write the company name, position, work location, and length of service in a way that it is comprehensible at a glance. Part-time jobs that did not last for a long time can be omitted, but if they are related to the employment, please include them. It is also very easy to read if you make bullet points of work content and skills acquired from each of the occupations held.

If there are any certificates or awards received in the past that are related to the employment position, please include it in the resume. If there are any computer software knowledge and/or if you are bilingual, or trilingual, these are quite often highly valued and need to be included.

By adding at the end that references can be obtained immediately, if necessary, you will gain the trust of the applying client company.


Your resume is one of many the hiring company has to read, so keep your resume visually easy to read which will increase your chances of being read. The reviewer's eyes will be drawn to the resume that is easy on the eyes. Although it is important to sell yourself with enthusiasm, make sure your resume is made in such a way.

There must be areas in which you have put a lot of effort into and have experienced, which do not necessarily have much to do with the employment position. However, the company will first look to see if the skills and experiences you possess meet their criteria. Concentrate on appealing in these areas. The resume should be no longer than two pages. The interview is the time to promote your other skills.

- Are there any grammatical or spelling errors?
- Did you mention anything other than your job, experiences, or skills?
 Note: Be especially careful not to include anything about your nationality, race, gender, family structure, age or any other aspects that could be subject to discrimination.
Interplace accepts questions regarding resumes at any time. If there is something you do not understand, please feel free to contact us. Our experienced staff will be happy to assist you.